-
-
Words Matter : Tectonic Rift (page 2)
| tue, june 29, 2010 |
-
"For President (Barack) Obama, for me, and for this entire administration, our commitment to Israel's security and Israel's future is rock solid." Hillary Clinton 3/22/10
"We have an absolute commitment to Israel's security. We have a close,
unshakeable
bond between the United States and Israel." Hillary Clinton 3/16/10
Rock solid (solid as a Rock, unshakeable, and unmovable) were terms used to describe the obviously not so rock solid relationship between the Obama administration and Netanyahu led government. Just saying it doesn't make it so. Growing up my father always told me, "Your actions speak louder than words." The actions of this administration have blared volumes about their lack of love for the Netanyahu led government of Israel.
It is my belief that the lack of a solid relationship and the continued erosion of what remains has helped move the United States of America into position to receive the due judgment that she has, without regret, heaped upon her own head.
JEHOVAH is a just and righteous judge. Without contradiction He judges according to HIS Word and abides by His promises. JEHOVAH promised Abraham that He would bless those who blessed him and curse those who curse him. The context of the scripture found in Genesis 12:3 is in regards to the nation that would come from the seed of Abraham, the nation of Israel.
This would seem to help explain the greatest years of blessing in the United States of America, as these years seem to coincide with the unconditional support for the resurrected nation of Israel in May of 1948.
With that said, blessing Israel doesn't cover or cause JEHOVAH to forget the millions of babies murdered in cold blood, the rampant homosexuality, the deprave moral state of the masses, idolatry, or various other forms of wickedness perpetuated by the inhabitants and government representation of the United States America (Babylon), but I do believe that it temporarily postpones JEHOVAH'S wrathful judgment from being poured out in full force.
I have often wrestled with the thought of how blessing Israel relates to staying off the hand of JEHOVAH'S judgment, being that there is plentiful evidence that cursing Israel seems to be met with judgment typically 12-24 hrs post curse. I believe that the USA cursing Israel while having amassed an immeasurable amount of unrepentant iniquity is similar to leveraging trillion dollar loans on thousands of dollars in the bank, except the United States of America, even if unknowingly, has systematically leveraged an immeasurable amount of iniquity against a promised blessing. Turning from the friend who blesses to the foe who curses has exposed the United States of America to the unimpeded hand of JEHOVAH. The inevitable result is a nation that had no foundation, nothing rock solid to place its foundation upon, and the outcome is a nation dually smashed under the awesome power of JEHOVAH'S righteous judgment and wrath, no longer held back by His promise of Blessing. Blessing Israel doesn't make the United States of America's sin okay, but it does seem to help in the grace period before the final judgment.

This theory, as a friend put it, seems to be proven even more by the fact that the top three major tornado outbreaks (and not just limited to the top three) this year have coincided with the Special Envoy to the Middle East George Mitchell's trips to Israel as he attempted and successfully resumed peace talks, albeit proximity and not direct and better termed divide Israel talks.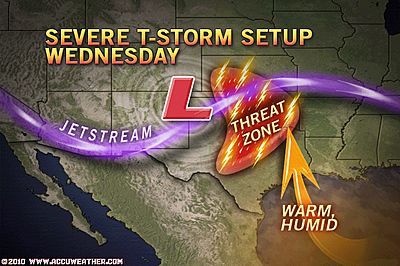 All the wild atmospheric conditions that have resulted in tornadoes, floods, and heat waves this year seem to be connected to the use of words like, atmosphere, conducive, and wedge. The atmosphere in every example was conducive for severe weather and the word wedge describes the most destructive tornadoes, tornadoes that are wider than they are tall. The worst tornadoes this season have been the "
wedge
" variety.
"As we continue to strive for lasting peace agreements between Israel, the Palestinians, and Israel's neighbors, all sides should understand that our commitment to Israel's security is unshakable and that no wedge will be driven between us." Barack Obama 4/20/10
"Both parties are taking some steps to help create an atmosphere that is conducive to successful talks, including President Abbas' statement that he will work against incitement of any sort and Prime Minister Netanyahu's statement that there will be no construction at the Ramat Shlomo project for two years." Philip Crowley 5/9/10
"If you're signaling are we expecting a breakthrough through this visit, probably not. Are we trying to move the parties to a point where they agree to proximity talks and to begin to address the substance, the core issues of the process, we hope we're getting closer to that point? But there's still work to do." Philip Crowley 4/23/10
"In his meetings, Senator Mitchell is focused on actions they can take to improve the atmosphere for peace and how to move forward with proximity talks." Philip Crowley 4/23/10
All the wild atmospheric conditions that have resulted in tornadoes, floods, and heat waves this year seem to be connected to the use of words like, atmosphere, conducive, and wedge. The atmosphere in every example was conducive for severe weather and the word wedge describes the most destructive tornadoes, tornadoes that are wider than they are tall. The worst tornadoes this season have been the "wedge" variety.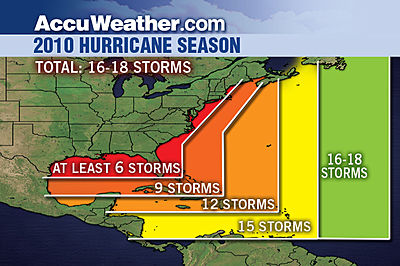 And we believe that with Israelis and the Palestinian Authority coming together, making clear that a peaceful, non-violent solution that recognizes both the security needs of Israel as well as the legitimate aspirations of Palestinians is the right way to go, can yield real progress in the coming months.
And the United States is going to put its full weight behind those efforts.
I did share with President Abbas, in order for us to be successful in these next several months, that both sides have to create an environment, a climate, that is going to be conducive to an actual breakthrough.
And if we can over the next several months try to lift up what are the honest and legitimate concerns of both sides and if both Palestinians and Israelis can recognize that they have a common interest in moving off of what has been this dead end, then I believe that potentially we can make significant progress before the end of the year. Barack Obama 6/9/10 (link)
Recently, in remarks that President Obama made at a joint meeting with Palestinian President Mahmoud Abbas at the White House, he even added the words climate and environment to the mix. These words were used with the words breakthrough and next several months. I believe that he was describing the 2010 hurricane season and the environmental impacts of the oil spill and one can only hope the breakthrough he spoke of doesn't manifest itself in a judgment resulting in the oil or methane breaking through the Gulf seafloor has some have speculated. We shall see.
I believe that the word core wasn't the only one that seemed to point to the unprecedented Gulf oil deluge, I believe that several signs were given in the words by the Obama administration prior to the April 20th rig explosion such as undermine, rock solid, and 30,000 foot level.
On March 31st I posted Geo-Related Event in the Near Future? Based on prayer and the words that I observed being used by Obama officials, I felt strongly in my spirit that a major geo-event was going to take place. Looking back it is easier to see the connection with the words and the judgment.
Rock solid = the miles of rock that Deepwater Horizon had to drill through to reach the oil reserve. It is also the miles of this solid rock that is a large factor in the pressure that is placed upon the reserve that made it such a risky job and the same reason why all attempts to cap the well have failed.
Undermine = to dig under. The rig was drilling, or digging; through multiply layers of rock, mud, and sediment to reach the Macondo oil reserve. The Obama administration had warned the Israelis and Palestinians they would hold whomever accountable if one of the parties undermined talks. I find it ironic that accountability has been illusive in the wake of the Gulf disaster. First it was BP, then it was Obama, then it was BP, but it was the Obama administration that signed off on the approval for the well to be drilled. So I find it interesting that a rig approved by Obama, that undermined safety regulations and cut corners, is now in an accountability crisis of its own.
30,000 foot level = Based on what has been reported, the Macondo reserve is as deep, if not deeper, than 30,000 feet below sea surface. The true depth of the drilling operation has varied from 22,000 feet in some reports to 18,000 feet in others. But the Oil pocket itself is at least 30,000 feet deep. It was a US official who stated that the US was going to take the peace talks to a 30,000-foot level. (Whatever that means)
These are just a few very simplistic examples of various words that have been used in the Obama administrations assault on the Land of Israel and the judgments that followed. The Land of Israel is JEHOVAH'S and whether anyone likes it or not, certain promises have been made concerning that land and the nation that JEHOVAH prophesied and promised would come. How the United States of America addresses this fact and her immeasurable sin is the difference between life and death.
I believe that the words that are used by this administration and the resulting judgments are examples of being judged by the words of your mouth.
There is also the element of prophesying in ignorance, or the Caiaphas effect.
It was Caiaphas who unknowingly spoke of the will JEHOVAH had already established for His SON JESUS CHRIST.
Then the band and the captain and officers of the Jews took Jesus, and bound him, And led him away to Annas first; for he was father in law to Caiaphas, which was the high priest that same year. Now Caiaphas was he, which gave counsel to the Jews, that it was expedient that one man should die for the people. John 18:12-14 (emphasis mine)

I believe that PM Netanyahu did this when he made a speech to an audience honoring Israel's Memorial Day at national cemeteries about the honor and sacrifice connected to each life lost by a fallen soldier since the creation of the Jewish State.
"We extend one hand in peace to all our neighbors who wish for peace," Netanyahu said. "Our other hand grasps the sword of David in order to defend our people against those who seek to kill us." (emphasis mine)
You can read my thoughts on this here The Sword of David.
That makes a statement made by Israeli Ambassador to Washington Michael Oren a few days ago very interesting. Sources said Mr. Oren told foreign ministry colleagues at a private briefing in Jerusalem: "There is no crisis in Israel-US relations because in a crisis there are ups and downs. [Instead] relations are in a state of tectonic rift in which continents are drifting apart."
Could this be another example of a man prophesying in ignorance?
Mr. Oren has since denied that he used the word rift and said that he used the word shift that was most likely misinterpreted by the Israeli ear that reported his words.
A rift is one thing, but it is the shift of tectonic plates that really matter.
Earthquake? Soon?
God bless, daniel
-
_______________________________________________________